When the mid-morning or mid-afternoon stomach grumblings start, bypass the vending machine chips, candy bars and packages of cookies.
Instead, opt for healthy snacks like fruits or nuts. Fresh items, as opposed to processed foods, are always a good choice because you can avoid consuming the added chemicals and preservatives of processed foods.
Nancy Tan, a 22-year-old advertising account executive, is always on her toes with busy deadlines and trying to please clients. She enjoys snacking on fruit or cherry tomatoes throughout the day.
She also makes sure to drink plenty of water to keep herself hydrated. "[Healthy snacks and water] really give me the extra lift I need…and constantly going to the restroom keeps me on my toes, too," Tan says.
Campbell suggests also snacking on things like apples, raisins or baby carrots while you are on the go.
Snacking on healthy foods in between meals can keep your blood sugar level, prevents fatigue and, more importantly, prevents binge eating.
Try to eat dinner at a regularly scheduled time early in the evening – as opposed to late night dinners.
Most dinners are more relaxed than other meals during the day, and you often have more time to spend eating or preparing dinner than other meals.
Take the time to include foods from the food groups that you may have missed in earlier meals.
Be warned, however, dinnertime can sabotage your diet or healthy-eating intentions because you do have more time to eat – you may end up eating too much. Watch your portion and serving sizes.
Marshella Dickey, a 22-year-old Coach Sales Associate, does not always have time to eat healthy dinners, but makes the most of foods available to her and knows how to avoid the unhealthy food traps of the mall food-court while she is at work.
"I try to eat lots of fruits and salads with spinach leaves. If I must eat on the go, I try to find wraps with vegetables and chicken. I also try to have wheat bread and pasta when I can," Dickey says.
Eating out can be a challenge for the health-conscious eater. Aim to have sit-down family meals at home but when you do eat out, try these key strategies to dining out.
By the time lunch rolls around, if you are slaving away at work, school or with the kids, dining on fast food or some type of "lean" or "low-fat" microwavable food may seem like the most convenient choice.
Going to a fast-food restaurant is not necessarily the worst food choice – many national restaurant chains have their nutrition facts posted at the counter and many publish nutrition facts online for you to download. Do a little research before you head to the drive-thru and choose the fast foods with the healthiest profiles.
"Lean" microwavable foods offer convenience as well as a label that makes you think healthy, but they are typically very high in sodium. While the calories and fat content tend to be lower with foods like Lean Cuisine and Lean Pockets, one serving may contain up to 30 percent or more of the recommended daily sodium intake of 2400 milligrams – in one meal.
Marci K Campbell, PhD, a Professor of Nutrition at the University of North Carolina at Chapel Hill, suggests looking for microwavable meals higher in protein and with less than 500 milligrams of sodium per serving. She cautions, "If the product contains less than 10 grams of protein it probably won't fill you up or feel like a meal."
Sometimes the lunch convenience factor is more important than choosing the healthiest option – which would be to take the time to make a lunch that is healthy – but requesting nutrition facts from your favorite restaurants and reading nutrition labels are a great strategy for healthy midday eating.
Healthy eating is about more than the food on your plate—it is also about how you think about food.
Healthy eating habits can be learned and it is important to slow down and think about food as nourishment rather than just something to gulp down in between meetings or on the way to pick up the kids.
Eat with others whenever possible. Eating with other people has numerous social and emotional benefits—particularly for children—and allows you to model healthy eating habits. Eating in front of the TV or computer often leads to mindless overeating.
Take time to chew your food and enjoy mealtimes. Chew your food slowly, savoring every bite. We tend to rush though our meals, forgetting to actually taste the flavors and feel the textures of our food. Reconnect with the joy of eating.
Listen to your body. Ask yourself if you are really hungry, or have a glass of water to see if you are thirsty instead of hungry. During a meal, stop eating before you feel full. It actually takes a few minutes for your brain to tell your body that it has had enough food, so eat slowly.
Eat breakfast, and eat smaller meals throughout the day. A healthy breakfast can jumpstart your metabolism, and eating small, healthy meals throughout the day (rather than the standard three large meals) keeps your energy up and your metabolism going.
Avoid eating at night. Try to eat dinner earlier in the day and then fast for 14-16 hours until breakfast the next morning. Early studies suggest that this simple dietary adjustment—eating only when you're most active and giving your digestive system a long break each day—may help to regulate weight. After-dinner snacks tend to be high in fat and calories so are best avoided, anyway.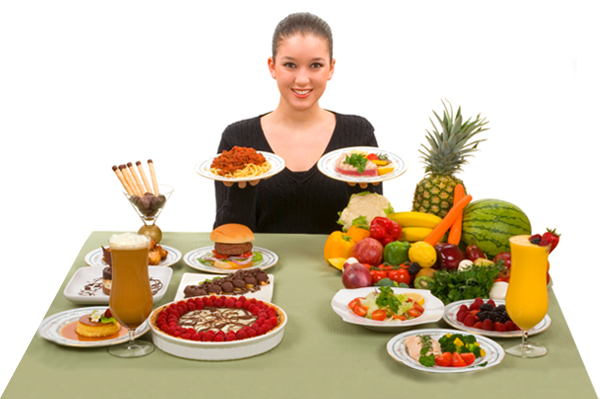 People often think of healthy eating as an all or nothing proposition, but a key foundation for any healthy diet is moderation. But what is moderation?
How much is a moderate amount? That really depends on you and your overall eating habits.
The goal of healthy eating is to develop a diet that you can maintain for life, not just a few weeks or months, or until you've hit your ideal weight. So try to think of moderation in terms of balance.
Despite what certain fad diets would have you believe, we all need a balance of carbohydrates, protein, fat, fiber, vitamins, and minerals to sustain a healthy body.
For most of us, moderation or balance means eating less than we do now. More specifically, it means eating far less of the unhealthy stuff (unrefined sugar, saturated fat, for example) and more of the healthy (such as fresh fruit and vegetables). But it doesn't mean eliminating the foods you love. Eating bacon for breakfast once a week, for example, could be considered moderation if you follow it with a healthy lunch and dinner–but not if you follow it with a box of donuts and a sausage pizza. If you eat 100 calories of chocolate one afternoon, balance it out by deducting 100 calories from your evening meal. If you're still hungry, fill up with an extra serving of fresh vegetables.
Try not to think of certain foods as "off-limits." When you ban certain foods or food groups, it is natural to want those foods more, and then feel like a failure if you give in to temptation. If you are drawn towards sweet, salty, or unhealthy foods, start by reducing portion sizes and not eating them as often. Later you may find yourself craving them less or thinking of them as only occasional indulgences.
Think smaller portions. Serving sizes have ballooned recently, particularly in restaurants. When dining out, choose a starter instead of an entree, split a dish with a friend, and don't order supersized anything. At home, use smaller plates, think about serving sizes in realistic terms, and start small. If you don't feel satisfied at the end of a meal, try adding more leafy green vegetables or rounding off the meal with fresh fruit. Visual cues can help with portion sizes–your serving of meat, fish, or chicken should be the size of a deck of cards, a slice of bread should be the size of a CD case, and half a cup of mashed potato, rice, or pasta is about the size of a traditional light bulb.